PDF = all the programs you use rolled into ONE...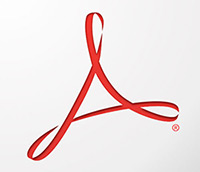 PDFs are beyond just being an electronic sheet of paper... PDFs are a single, stable platform across all programs.
Practically every program you use on a daily basis can output a PDF — CAD, Word, Excel, PowerPoint, InDesign, Photoshop and hundreds of others ...
PDFs can interact with other PDFs no matter the source. A PDF is not just a picture of an output—it is an open standard that has depth and dimension built in ...
You can embed videos and Flash into PDFs.
You can design PDFs with navigation to link massive amounts of information together
You can build Excel spreadsheet calculations into PDFs...
You can put key words into PDFs when you post them to a web site to enhance search engine rankings. Check this out — all the PDFs have key words embedded.
Embedded 3D models and video can make a static PDF catalog dynamic.
Cat Interactive creates PDF platforms that can include all a company's resources under one roof. No CRM program can do that.
PDF technology is forming the backbone of some of the world's most powerful app development software (Adobe's Creative Suite 6, for example).
Low cost. Versatile. Easy to use. Intuitive. Right for you.